I noticed this morning that the Weather Underground had taken a predicted rain for today out of its forecast. After a long dry spell, we've had a lot of rain recently. Yesterday's precipitation total was almost four inches.
With the break in the rain, I hope to get some succession crops going in the next few days. I followed our tall, early peas with a succession planting of Japanese Long Pickling cucumbers last Thursday. Next up should be two rows of green beans. Once our Eclipse peas now growing for seed come out, their space will be filled with lima beans.
Later today, I'll seed our fall brassicas. While we grew a variety of broccoli and cauliflower varieties this spring, I'll be going with our tried and true saved Goliath broccoli seed and Amazing cauliflower. (I have sterilized potting mix cooling in the oven for the planting).
Success
My experiment with planting onions in the fall for early summer harvest has worked out well. I've been stealing fall planted Walla Walla onions for cooking for a week or so. When starting some chicken for bone broth today, I took another Walla Walla, but also pulled several more that are ready to dry.
The idea for fall planted onions came from a High Mowing Organic Seeds' article, Time to Plant Fall Onions for Overwintering. Our spring transplanted Walla Wallas never seem to achieve full size. There are still several huge Walla Wallas whose tops haven't as yet toppled over, so they're not quite ready to pull and dry.
Not a Success
The parsley I started inside in January and transplanted into our herb bed in early May have all put up tall seed spikes. The plants are rather sparse on leaves, so they'll need to come out. I have more parsley germinating in our basement.
You can tell from the photo above that while I won't tolerate blooming parsley when I want parsley leaves, I'm quite happy with dill that is now blooming.
| | | | | |
| --- | --- | --- | --- | --- |
| | | Required FTC Disclosure Statement: Botanical Interests, Burpee, Renee's Garden, and True Leaf Market are some of our Senior Gardening affiliate advertisers. Clicking through one of our ads or text links and making a purchase will produce a small commission for us from the sale. | | |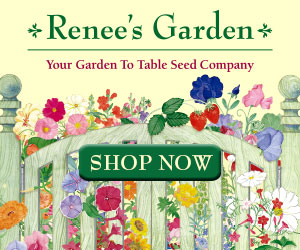 Here it is July 3, and I've put off trimming our shrubbery until today. Fortunately, my old 20" Black & Decker Hedge Trimmer still works well. It efficiently trimmed our evergreens, but I'll probably have to use our chainsaw on our two huge laurel bushes.
Looking at the photo at left, I see that I got the bushes a little bit lopsided. But they're done for now. I can now weed and plant the two small, shaded flowerbeds on either side of our front steps. I have dianthus and impatiens transplants languishing on the back porch that need to go into the ground soon.
Before the trimming, I cut back our parsley plants, weeded the herb bed, and replaced a basil in the bed that got dug up by a cat.
Have a happy and safe Fourth of July!
Tuesday, July 4, 2023 - Independence Day (U.S.)
It's pretty, but warm and muggy outside today. I pulled our Abundant Bloomsdale spinach plants this morning that I'd let go to seed for seed saving. Unfortunately, the strong winds with recent thunderstorms broke off all of the seed spikes. Mature seed scattered across the mulch. But I did find about seven seed stalks on the ground with a few seeds left on them. I think I saved about fifty spinach seeds.
Unless I start sharing old seed saved in 2021, I won't be sharing Abundant Bloomsdale seed next year. But High Mowing Organic Seeds offers the variety at a reasonable price.
Under our plant lights, things are going a bit better. The parsley and gloxinia seeds I sowed a few days ago have germinated.
I really tried to be sparing with the seeding, but still got way too many gloxinia seeds in the starter pot.
While the pea pods weren't all brown yet, I took out our rows of Eclipse supersweet peas this morning. Some of the pods, even some green ones, were beginning to split open and spill the precious seed on the ground. I also took out a lot of weeds and volunteer petunias from the rows.
The petunias are from an ill fated experiment several years ago with the Perseverance variety. They produce lots of lovely purple blooms, but the plants tend to take over any area they are grown in. They'd be ideal for a large area, but didn't work out for us as row end markers. And as weeds in our pea rows, they were just a pretty nuisance.
The Eclipse pea pods went into a heavy Perma-Nest tray to dry in the basement. I also turned on our dehumidifier there. The pea vines, empty pods, and weeds went onto our compost pile.
We had steak, baked potatoes, and peas for supper last night. The steak was a single large T-bone which Annie and I split, but still have some left for supper tonight. The steak was delicious, but it's hard to say whether it or the Eclipse peas were better. Supersweet peas are a real treat.
Today turned out to be one of those gardening victory days. It was hot out, but not too humid, and there was a nice breeze. I got started by removing the last of the posts, wire, and netting that we used for our short peas. After that, I scuffle hoed the area where some brassicas and the peas had grown as there were lots of seedling weeds emerging.
I staked the rows for succession crops of lima and green beans. Possibly pushing things a bit, I strung a row and made a furrow down it with my garden hoe. I'd feared the soil was too wet to be opened for planting, but the furrow opened up easily. So I carefully spaced a packet of Fordhook 242 bush lima beans down the row. There actually were a lot fewer lima bean seeds in the packet from the Southern Exposure Seed Exchange than I would have liked! But beans spaced widely produce more pods per plant than beans tightly planted.
I didn't add any soil amendments to this planting, as the area had been rather heavily fertilized when I put in the brassicas and peas.
Next, I seeded two narrow rows of green beans. I grouped the seeding with the earliest varieties at one end and the later ones on down the rows. With days-to-maturity figures in parentheses, I seeded Provider (50),  Strike (53), and Bush Blue Lake (57) in one row. The second row got Contender (55), Maxibel (61), and Burpee's Stringless Green Pod (50). These are all varieties we've grown and enjoyed for years. The seed used was all purchased in 2020 and has been in our big freezer since. I tell myself I save a few bucks by purchasing half pound packets of beans and using them over several years. The shorter season Stringless Green Pods got pushed to the end of a row with longer season varieties, as they never seem to grow well for us in the middle of a row. I grow them still because they are my wife's favorite.
When canning green beans, I prefer to have several varieties in the mix. I think it improves the flavor of the beans.
Note that one can plant green beans in a narrow, single row or a wide row of anywhere from 6 to 18 inches wide. Because they're easier to pick, I planted narrow rows today. A wide row will obviously produce more beans. See: Wide Row Planting for Beans
While working the bean rows, I noticed that our Earliest Red Sweet pepper plants had both red and green peppers on them. The reds all had blossom end rot, not surprising from our previous dry weather. Calcium from lime or ground egg shells helps reduce blossom end rot, but there has to be moisture in the soil to help the uptake of the calcium. We were pretty dry for a long time.
How-tos:
I was sort of proud of myself for not damaging the lovely flowers along the edges of our main raised bed when putting in the beans. We have some really nice snapdragons at the far end of what is now the lima bean row. The moderately tall flowers were protected somewhat from our recent wind storms by the posts and trellis. Hopefully, they'll continue to thrive without support.
When I was mowing yesterday, I discovered two apples on one of our young Stayman Winesap apple trees. So this morning, I went out to spray the apples and the tree. Upon closer inspection, I also found two apples on our Golden Delicious tree.
The Golden (or Yellow) Delicious tree produced three or four bushels of apples last year! But this year it bloomed by itself and apparently didn't get the cross-pollination it needed to produce a good crop.
To top things off, I spied two very wormy apples on the volunteer apple tree just off our property. One of these years, all four of our apple trees may bloom simultaneously. Until then, I'm going to be happy with four possibly good apples.
Garlic
I moved on to trying to dig a few garlic to see whether the crop was ready to come out. It was.
So I used my garden fork to gently lift the garlic bulbs from the ground. The job took longer than usual, as the garlic was heavily mulched with grass clippings. Those clippings got moved to our narrow bed of Earlirouge tomatoes. The area along the edge of the bed where I recently took out our spring spinach especially needed a refresh in mulch.
This harvest was influenced by our recent drought. There were a lot of small garlics, but I dug enough to keep us in garlic until next year's harvest. Our elephant garlic was especially hard hit by the dry weather. I dug just enough of it for planting this fall.
The garlic went onto our makeshift drying/curing table in the garage. I opened a garage window and also turned on an ancient box fan to aid the curing. Typically, it takes two to three weeks for garlic to dry down enough to trim tops and roots and bag and store the garlic bulbs.
Our how-to: Growing Garlic.
Mulching
I mowed our basic lawn yesterday afternoon, so today it was time to sweep up the grass clippings and mulch our melon plants. At transplanting, I'd mulched just around the plants, but they are now sending out runners beyond the old mulch. In the years when we grow melons, it's always a race to stay ahead mulching of the melon plants' rapid growth.
We have rain predicted for tonight and tomorrow, but when the weather breaks, I can mow the field around our East Garden plot. That should produce a good bit more mulch for the melon patch.
Some of our June 5 planting of buckwheat is beginning to bloom. The buckwheat hasn't come in as strong as usual. I think I set our rototiller a bit too deep and really buried some of the seed. While it's not a perfect cover/smother crop, when turned under, it will enrich the soil.
In the background of the buckwheat photo is our planting of butternut squash. They've outgrown the wide area of mulch I started them in. But butternuts can survive some weeds as their large leaves smother some stuff growing under them.
Thankful
As I approach my 75th birthday, I thank the Lord each day for my time with my wife, Annie, our family, a life in a beautiful setting, and the time to do the things I love. I hope each of you readers can experience the same joy.
As predicted, we had some fairly strong thunderstorms this morning. While the thunder shook the house frequently, our rain gauge showed only a half inch. I'd expected a bit more from the fury of the storms, but still hope that what we got will pop up the beans I direct seeded on Thursday.
Before the main storms arrived, I drug a bale of peat moss into the raised bed where our garlic had grown. I split open the bale to let the rain hit it, as peat moss can be slow to absorb water. The soil level in the bed was a bit low, and it could use more organic matter.
I've got plenty of time to work the peat into the soil, as the succession crop of brassicas for this bed are now beginning to germinate in our basement. The area will get a row each of cauliflower and broccoli.
When I checked our Eclipse pea pods that were supposed to be drying in a tray in the basement, they felt wet. I don't know if a tray above them leaked or what. I went ahead and shelled the peas for seed saving. There were some rotten peas in a few of the pods and at least one pea that had germinated. I'm hoping taking the peas early and then today's moisture problem won't negatively affect the seeds' germination.
Our current weather outlook shows some pretty good chances of rain starting on Wednesday. Before then and when things dry out, I'm hoping to mow and rake the field around our East Garden plot for mulch for our row of melons (and squash). The Slick Pik yellow squash on either end of the row now have squash maturing on them.
Finally, I found four just barely ripe, very small Earlirouge tomatoes yesterday. I think there are enough of them to have our annual first BLT feast.
My main gardening job today was spreading a 3.8 cubic foot bale of peat moss across the narrow bed where our garlic grew. Since peat moss is a bit acid, and I'll be transplanting brassicas into the bed sometime this month, I liberally spread ground limestone over the peat. The lime helps prevent clubroot in brassicas. Then I used our garden fork
to mix the peat moss in with the bed's soil, driving the fork's twelve inch tines fully into the ground.
About the only time I step into our narrow raised beds is to do something like digging garlic. I was pleased to find that my considerable weight hadn't created any soil compaction. After raking the bed somewhat smooth, I liberally watered it to help keep any peat moss on the surface from blowing away. Now I just have to keep the bed weed free until the broccoli and cauliflower transplants are big enough to go into the ground.
Before I started on the narrow bed, I tidied up our herb bed a bit. A quick trim around the edges and some weeding were necessary. I also pruned spent blooms from the large yellow blooming marigold.
Later, I had some fun taking shots of the flowers that edge our raised beds.

We have several Pinto Salmon geraniums around the garden and one in a planter on our cistern cover. Vincas always take a bit of time to come into bloom. But once they do, such as the Pacifica shown, they bloom right up until the first frost. And our Madame Butterfly and other snapdragons are always a visual treat.

Summer Clearance Sale
A recent New York Times Wirecutter article, The Best Bird Feeders, recommended the Droll Yankees 18 Onyx Sunflower Tube Feeder w/Removable Base as "the sturdiest and best-built feeder" tested. I grinned when I saw that, as that's the feeder I bought eight years ago on the advice from my late gardening friend, Don Smith.
I got away from filling the feeder this spring as things got busy in the garden. I filled the feeder today and spread seed on our shallow well cover. No birds showed up. Maybe tomorrow.
My main job today was mowing the field around our East Garden plot and mowing where I could between the rows in the East Garden.
I picked a few beets this morning when doing a bit of weeding in our main raised garden bed. Since my lovely wife, Annie, is a beet avoider, I hunted for a beet recipe online. I found a good one at EatingWell, Brown Sugar-Glazed Beets. Annie actually ate a few bites of them, pronouncing them edible.
While mowing, I saw that our butternut squash vines have indeed outgrown the area I had covered for them with grass clipping mulch. I trained the vines back around the planting and blew grass clippings up to them. If I have enough mulch tomorrow when I sweep the field, I'll mulch around the butternuts again. But our row of melons for now get first call on grass clippings.
It was impossible while mowing to not notice that our buckwheat cover/smother crop was beginning to bloom. Planted a little over five weeks ago, it's coming in on time. This crop isn't as full as I would like, as I apparently got my tiller set a bit too low and buried a lot of the seed. There's lots of grass growing in the planting. But it will all work out when I mow and turn under the crop for soil improvement.
Not my best photo, but the one above shows that I shrinked the vegetable part of our East Garden a good bit this year. The idea was to get it planted and make the plot manageable. Other than our weedy sweet corn planting due to a tiller breakdown, that's what I got.
We have a lovely summer day today. Temperatures are running in the mid-80s, and there's a pleasant 10-15 MPH breeze. My main goal for the day was to sweep up grass clippings from the field I mowed yesterday and put another round of mulch around our yellow squash and melons.
If we lived in a suburban neighborhood with finely trimmed lawns, our old lawn sweeper would go to the junk pile. It leaves lots of clumps of grass clippings behind despite repeated passes over a row. But it still picks up some clippings, enough for our mulching needs. So while the raked field doesn't look all that nice, our melons have some room to grow without weed pressure. I've left fifteen feet on either side of the melon row to allow for the growth of runners. I hope to eventually get all that area mulched. Until then, I'll keep it mowed down with the mower deck set very low.
Sadly, our rows of sweet corn are just barely staying ahead of grass weeds in the rows. Our rototiller still refuses to start and I don't have a push mower to knock down the weeds. Prices for rototillers, mowers, and even lawn sweepers have gotten ridiculous.
Our row of potatoes is getting overgrown with weeds even though I mowed on either side of the row. I left a five foot aisle around the potatoes. Some hand weeding may save that planting. I also mowed down one side of our row of kidney beans. They're not so pressured by weeds, but have a lot of bug damage showing. That tells me that our rows of green and lima beans that are now just emerging may not be organically grown and may require lots of bug spray.
I mentioned our squash above. Our two hills of Slick Pik yellow squash are filled with squash now. Once some of the squash mature, our first use of them will probably be for Baked Parmesan Yellow Squash. And there are lots of other yellow squash recipes online.
I have a newly started pot of Slick Piks under our plant lights in the basement. When our current plants wear themselves out which they always do, I should have replacement plants ready to go.
The recent drought seems to have stunted our six Earlirouge tomato plants. But...they're now ripening some nice tomatoes. Our yellow marigold continues to show off. And our buckwheat is blooming. With rain in the forecast for tomorrow, I don't know when I'll get the buckwheat mowed and turned under. Once that's done and a week or so passes, I'll re-seed the area to more buckwheat.
As I came back to the house from the East Garden after taking some pictures, I had to smile at the view of part of our back yard and garden. We have lots of flowers in bloom.
With both Annie and I now retired, we live a blessed life in a beautiful setting.
My first gardening job today was to rescue our short row of potatoes. They were overgrown with grass. While I took a bunch of tools out to the East Garden to do the job, it turned out that all I needed were my knee pads and our hand trimmer! I was pleasantly surprised at how many of the potato plants had survived being overgrown.
Since I didn't pull the grass weeds, I'll have to go back and trim again or mulch the potatoes. But at least the plants are alive.
I moved on to scuffle hoeing our newly emerged beans. Tiny weeds had already begun to appear in between the rows.
While out by our main raised bed, I took a good look at our Goliath broccoli I'm growing as a seed crop. It was hard not taking any of the huge broccoli heads the planting produced. My reward for restraint is plants filled with broccoli seed pods.
I finished my gardening day by running our Greenworks String Trimmer down the aisles between our rows of sweet corn. While not as good as mowing or tilling, it did knock down the grass weeds. After a couple of years of use, I'm fairly pleased with both the string trimmer and the Cordless 16-inch Chainsaw I bought in 2021.
Using the string trimmer probably will save our sweet corn and kidney bean crops. We haven't grown a good crop of sweet corn in years. I'm hoping the five twenty foot rows of mostly new-to-us sh2 varieties does well. The Xtra Tender 3473 white, First Lady and American Dream bicolors, and Yellowstone, Vision MXR, and Accentuate yellows planted on June 9 should begin to mature in mid- to late August.

Saturday, July 15, 2023 - Rain
We have thunderstorms rolling in this morning. While our soil isn't bone dry, any rain we get will be welcome. According to Thursday's release of the U.S. Drought Monitor, we're still in the Abnormally Dry classification.
The Drought Monitor cuts off data collection on Tuesdays and publishes the results on Thursdays. Do note that the images above automatically update with each Thursday's new release of data.
The rain and a day off from gardening are welcome. After a couple of days of mowing, raking, and mulching, my shoulders, hips, and back are screaming out in pain. Even though it's early in the day, I've turned to my usual pain killing routine of aspirin, Ben Gay, and scotch!
Hummingbird Feeders
To lessen the chaos at our two hummingbird feeders, I hung a third feeder about a week ago. The chaos is somewhat lessened, but not the tiny birds' consumption of sugar based nectar. We mix our own nectar in a 4:1 water to sugar ratio. As the birds' fall migration approaches, we sweeten the mix a bit more.
For years, we relied on several now discontinued Birdscapes 12-ounce Glass Hummingbird Feeders. The birds seemed to like them, but the feeders were a bit fragile. Our last one has one perch broken off that I can't seem to get glued back on correctly. And since this feeder requires a funnel to fill, I'm glad to set it aside for now.
A gift from one of our daughters, a Perky-Pet 16 Ounce Hummingbird Feeder, now seems to be the birds' favorite. It's blue coloring chipped off several years ago, but the feeder is still functional and easy to clean and fill. It gets refilled about twice a day now.

About a month ago, I hung a second feeder. This one is a big First Nature 32 ounce Hummingbird Feeder. And the one I hung a week ago is a cheap one I picked up somewhere. The link to it is generic, as I couldn't find the actual feeder on sale anywhere online.
If you're looking for a hummingbird feeder, I'd recommend the Perky-Pet model.
Required FTC Disclosure Statement
Some of our text links go to the sites of our Senior Gardening Advertisers. Clicking through one of our banner ads or text links and making a purchase will produce a small commission for us from the sale.
Beans
I was fairly pleased with how our lima and green beans had germinated. But I also realized that I'd seeded them pretty sparingly down single rows rather than wide rows to make picking easier.
When the rain stopped today, I checked the beans again. Something, probably a rabbit, had bitten off a good many of the plants. So I got our bean seed out of the freezer and pushed seeds into the bare spots with a finger.
More often than not, I use Repels All to deter such damage. As our bottle of the granules was getting low, I omitted that step...and have now paid for it. I spread a good bit of it down the rows.
For some reason, sellers can't ship Repels All into Indiana. So while friends and neighbors sneak into nearby Illinois for edibles and weed, I have to have Repels All shipped to a daughter who lives in Illinois!
And...we got eight tenths of an inch of rain this morning. Yippee!

After scuffle hoeing our bean rows and hand weeding our cucumbers, I dug our beets this morning.
It was a disappointing harvest. Despite the beet varieties planted being well past their days-to-maturity dates, there were lots of beets too small to use. I can blame part of that on the dry weather we had. But I also didn't properly thin the beets. Beet seeds are compound seeds and can produce multiple plants per seed. I didn't go back and thin the beets so that the ones left had adequate space to grow.
Fortunately, I got enough mature beets from the three foot double row of them to freeze two pints of beets.
I'd planned to mow the field around our East Garden plot this afternoon. But the smoke haze from Canadian wildfires was too thick. There are health warnings posted for old geezers like me to stay out of the smoke haze.
Monday, July 17, 2023 - Garlic Powder
I started dehydrating garlic cloves last evening to make garlic powder. After peeling the cloves, I ran them through our food processor and spread the resulting chips and paste over two shelves of our dehydrator.
I used a mix of fresh cull garlic and the last of our bagged garlic. I'm not sure how that will turn out, but we're a bit light on fresh garlic. Enough so that I began searching a couple of our recommended suppliers (1, 2) for garlic for planting.
When I checked the garlic in our dehydrator this morning, I saw that it had fully dried after about twelve hours with the dehydrator set to 95°F. Sadly, the drying process also binds the dried garlic to the dehydrator trays necessitating scraping it off the trays and between the gaps in the trays.
I grind our garlic in an old Cuisinart Coffee Bar Grinder that we use only for grinding egg shells, dried herbs, and garlic. The actual grind only takes about twenty seconds. You have to let the grinder sit a bit before opening it or you'll have garlic powder floating in the air!
We store our ground garlic powder in a glass jar. I mixed the new powder with what we had left from last year, as the stuff never seems to spoil.
Our how-to on Growing Garlic includes a special section on Making Garlic Powder. Here are some other good pages on making garlic powder:

While writing today's posting and going to the basement and garage for photos, I realized it was high time to swallow my pride and order some more garlic sets for planting this fall. While we got some really nice garlics, we also got twenty something small, less than one inch in diameter, garlics.
We should be okay for planting softneck garlic, as many of those small bulbs are softnecks and I still have most of our garlic braid from last year that might still be good for planting. For hardneck garlic, I ordered some Chesnok Red and Purple Glazer from the Territorial Seed Company. When I've rarely had to order garlic, our best has come from Territorial.
Our row of elephant garlic only produced enough for replanting. Generally, a 15' row of garlic gets twenty sets put in. That should have produced enough elephant garlic for the table and planting, but some sets didn't germinate and others produced small round bulbs, probably due to the drought.
Even with the challenges we've had with our garlic this year, I still stick by my opening sentence in our Growing Garlic how-to: "Garlic is one of the easiest, most trouble free and productive crops one can grow in a home garden."
Having said that, I'm still stunned by the problems our early drought has caused with our garden crops. We had a short lettuce season and even a shorter spring spinach season. Besides our garlic problems, many of our onions are coming in small. Our overwintered Walla Walla sweet onions and our Red Zeppelins are both exceptions to the small onions.
Our six Earlirouge tomato plants are all stunted, but are now beginning to produce full sized (for Earlirouges) tomatoes. In contrast, our tomatoes planted a month later in our East Garden have filled their cages with growth, but have no tomatoes on them. I suspect the compost I fed them at planting may have given them too much nitrogen.
And despite the dry conditions, our Goliath broccoli for seed seems to be doing well. We also have had a bumper crop of peas this year. And I saw a baby cucumber yesterday on our recently transplanted Japanese Long Pickling cucumber vines.
Tuesday, July 18, 2023 - Garlic
I finished trimming roots and leaves from our garlic yesterday. The garlic is now bagged and stored in our basement plant room.
Fall Crops - A slightly updated re-run from last year
As of today, July 18, 2023, we have 88 growing days remaining this season. That figure is important in determining what one might want and can grow in the rest of the season. (Click on the image at right to get to the Dave's Garden page where you just enter your zip code to get your first and last frost/freeze dates.)
I made a list last year, in no particular order, of things I usually want to plant for a fall harvest, along with their normal days-to-maturity figures.
kale - 55-60 (74)
spinach - 47 (61)
lettuce - 57-60 (74)
carrots - 65 (79)
Sugar Snap peas - 58 (72)
I say normal in days-to-maturity figures, as one has to add ten to fourteen days to those numbers to allow for lessened sunlight in the fall days of dwindling sunlight. (Numbers above in parentheses) And several of those varieties, especially kale and to a lesser extent, carrots, can stand a light frost or two.
I should add here that one can cheat these dates a bit with the use of a cold frame, floating row covers, or whatever else you have to protect tender fall crops from frosts.
In determining what to plant, there's a great downloadable tool provided by Johnny's Selected Seeds in their Fall-Harvest Planting Calculator Workbook. It's a spreadsheet you enter your fall frost date and get recommended last planting dates for fall crops. If you lack Microsoft Excel to open the spreadsheet, the free Open Office suite does it well.
I should note here that we already have our fall beans planted and fall brassicas started in the basement.
Garlic Reminder
If you're planning to order garlic to plant this fall, it's time now to get your order in. Suppliers begin to sell out of favorite varieties by the end of this month! We've gotten good garlic sets from the Territorial Seed Company, Botannical Interests, Burpee
, and Johnny's Selected Seeds.
Interesting Article
An article on the Los Angeles Times' site, 'All the neighbors know who she is': How one woman built a flower farm across eight yards, tells of Rachel Nafis cut flower business.
Flowers
While Pinto Salmon geraniums seem to dominate much of our garden this year, there are other pretty favorites growing along the edges of our raised garden beds. The Celebrity series of petunias has been one of our longtime favorites. We like Pacifica vincas in our garden beds, although Cora Cascade vincas perform better for us in hanging baskets. And while we grow some snapdragons from mixed saved seed, our favorite variety is Madame Butterfly.
Yellow Squash
Two Slick Pik yellow squash ripened yesterday. I didn't get a shot of them, as one of them got immediately sliced, covered with a little salt and garlic powder, and a lot of Parmesan cheese. A few minutes under the broiler and Annie and I had a delicious mid-afternoon treat of Baked Parmesan Yellow Squash.
Wednesday, July 19, 2023 - Carrots
I dug our spring carrots this morning. What a disappointment!
Some of the carrots were small, but worse was the amount of weevil damage to the carrots. After scrubbing the carrots, I put a little over a dozen good ones in a Debbie Meyer Green Bag in the fridge. The damaged carrots had the bad spots cut out and were sliced, blanched, and frozen.
We haven't experienced weevil damage since 2017. I'll have to be sure to plant our fall carrots and next spring's carrots well away from the area where our spring carrots grew. Good crop rotation and proper garden cleanup reduce the chances of weevil carryover.
Mowing, Mulching
Despite the smoke haze we're continuing to experience, I mowed and raked the field next to us yesterday. The grass clippings I swept up were pretty green, but that was okay as I was mulching with them around the current perimeter of our melon row. Hopefully, the green clippings will heat up a bit and kill the grass growing under them.
Thursday, July 20, 2023 - Onions
While there are still onions not toppled over in our garden, our Walla Walla sweet onions have been curing in the garage for a couple of weeks. I trimmed the roots and tops off the onions this morning. Our initial yield of Walla Wallas was about eight pounds.
Knowing that Walla Wallas only store well for a few weeks, I sorted out about half of them to be chopped and frozen. When I got into the chopping, I had to pitch two whole onions and seriously trim another due to rot.
I like to use Walla Wallas to season our canned green beans. Since our beans were planted as a succession crop, the onions would probably be bad by canning time, so I froze a bunch of them. Our Walla Wallas often mature much later than our other onion varieties. Obviously, fall planting and overwintering them gave them a big head start on the other varieties.
It's been a fun gardening day today. This morning, I messed around taking pictures of various things in our garden. Other than weeds growing in the aisles of our sweet corn, our East Garden looks fabulous. The near eighty foot row of zinnias on the west side of the plot are now in bloom. They should continue to fill out and bloom throughout the rest of the season.
Beyond our East Garden vegetable crops, our planting of buckwheat is in full bloom. I'll need to knock it down soon, let it sit for a few days, and then turn it under as green manure. In the past, I've been able to turn down three crops of buckwheat in a single season. I'm hoping for two this year with possibly a late crop of buckwheat and hairy winter vetch mixed in.
As the zinnias mature and when our second crop of buckwheat blooms. we should get some pretty views of our East Garden plot.
My first "Gee Whiz" of the gardening day was when I saw that some of our Goliath broccoli plants had seed pods maturing and turning brown. A few pods had ruptured already, spilling their seed on the ground. But the plants were a mix of brown, dried pods and green ones still maturing seed. So I took our hand shears and clipped off a bunch of mature seed pods, several of which split open spilling broccoli seed into the paper bowl I was using to collect them.
My drive for saving Goliath broccoli seed is driven by it producing huge main heads and many sideshoots. While there are seed vendors offering seed named Goliath, the strain we're raising and saving has been superior to the other strains. Unfortunately, the seller we got our seed from dropped the variety in favor of lesser hybrids and then eventually left the retail U.S. seed market!
I'm getting a little antsy for our Goliath broccoli to mature seed and the last of our onions to come out. I have the space at the end of the bed planned for a fall crop of kale. It will be closer to the Goliath planting than I would like, but still a few feet away from it.
While photographing the East Garden, I also picked five Slick Pik yellow squash. We'll get a fairly short season from them, as the variety tends to produce heavily and then wear itself out. We're having yellow squash seasoned with garlic powder, seasoned salt, and topped with Parmesan cheese with our supper tonight.
I took a shot this morning of a Japanese Long Pickling Cucumber with its bloom still attached. I wasn't happy with the shot, and went back out to try it again. By then, the bloom had wilted. But...I saw a fairly well developed cucumber that I'd missed in my previous inspection of the row.
While our JLP crop this year is mainly for seed saving, the cuke at right will end up on somebody's dinner table. After experiencing inbreeding depression, I found that Reimer Seeds carry the variety. Their seed produces shorter cucumbers than our strain, but is pretty true to the JLP line. I usually plant one Reimer plant each year for pollination, but don't save any seed from the cucumbers the plant produces. That has cured our inbreeding problems without changing the characteristics of our Japanese Long Pickling cucumbers.
I also picked some Earlirouge tomatoes and Earliest Red Sweet peppers this morning. The ripe red peppers were low on the plants and bit hard to pick. But it appears that we're done with blossom end rot on them for this season. Likewise, most of the tomatoes picked didn't have blossom end rot, although they were fairly small. We've had BLTs already this summer. The tomatoes were delicious as usual. You just had to slice a lot of them for the sandwiches.
I'll be saving seed from both the tomatoes and peppers later this summer.
In the afternoon, I mowed our yard, raked it, and spread the grass clipping mulch down one side of our melon row. While we're getting yellow squash from plants at the ends of the row, I haven't seen any melons set on yet. I did see a spotted cucumber beetle on a squash, so I'll need to begin spraying soon. While the plant damage from cucumber beetles, striped and spotted, is pretty minimal, the bugs can carry plant diseases.
I saw a tassel on one of our sweet corn plants today. I didn't get our corn in until June 8, so it will be a while before we're enjoying corn on the cob and freezing sweet corn. I will, however, need to begin spraying the sweet corn with our homemade Not Tonight Deer! The once commercial product is mostly rotten eggs and white pepper and does a good job of discouraging deer. Unfortunately, it's not terribly effective with raccoons.
I overdid things a bit the last few days, so I mostly took today off from gardening to let my back heal a bit. I did trim more Goliath broccoli seed pods this morning. This afternoon, I worked on our front flowerbeds on either side of our front steps.
The beds have several hosta in bloom and some others I damaged when scuffle hoeing weeds out of the bed. I added some dianthus from saved seed and some Butterfly Hybrid impatiens to the mostly shaded bed. Our dianthus seed has been saved over and over from an original packet of Carpet Snowfire, although in succeeding years, the seed has produced an array of flower colors. And while dianthus is often listed as an annual, we've found it to be a biennial and even a triennial a few times.
These beds are particularly challenging. They're on the shaded north side of the house, have well established evergreens next to them with heavy roots running under the soil, and a lot of gravel in the soil. They've grown some nice flowers in the past, so I'm hoping.
I'm far enough along in saving Goliath broccoli seed pods that I went ahead and ordered a set of screens for seed cleaning. I'm now taking seed pods from over half of the sixteen Goliath broccoli plants I've grown exclusively for seed saving.
While out collecting seed, I took time to snap off spent geranium blooms. Doing so allows the plants to bloom more instead of trying to mature seed (which probably is sterile seed anyway). For good measure, I picked a bunch of Earlirouge tomatoes and a cucumber.
With the number of growing days left in the season steadily decreasing, I started some fall lettuce transplants today. I seeded two cells each of Crispino and Sun Devil (icebergs), Jericho, Paris Island, and Coastal Star (romaines), and ones that are either Better Devil or Majestic Red. I screwed up my garden mapping last year and wasn't sure which variety had bloomed and set seed.
I used deep sixpack inserts filled with sterile potting mix for the planting. Since some lettuce varieties germinate better with a little light hitting the seed, I only lightly covered the seed with a bit of vermiculite.
I let our buckwheat cover/smother crop grow a week or two too long. It had gotten really tall. So when I mowed it today, I had the mower deck set at its highest level as I very slowly mowed half widths. It was about all our gracefully aging John Deere X570 mower could handle.
I'll need to let the area dry a bit as I knocked down the buckwheat as much as mowing it. Once dried out, I'll mow the area again before eventually turning the buckwheat under with our pull-type rototiller. Eventually, the area will get re-seeded for another turndown crop of buckwheat.
My first job today was gathering produce for my wife to take to her ex-coworkers. With our local food bank destroyed by a March 31 tornado and me having planted like it might reopen this summer, we have lots of extra peppers, tomatoes, and yellow squash right now. The food bank is awaiting some kind of state certificate before being able to rebuild and serve the people of Sullivan County, Indiana.
One of the sage plants that mark the corners of our East Garden plot died. So I replaced it with a healthy new sage, as I have several in reserve. The plant got peat moss, a little 12-12-12 fertilizer, and some lime in its planting hole. It also got about four gallons of starter solution. Even with a light shower overnight, things are getting really dry again here.
I'd gotten our mower out to clean up around the old sage plant. When done transplanting, I decided to try mowing the mess of buckwheat and grass I'd left from yesterday's mowing. I was pleasantly surprised that this mowing at a slightly lower deck level only took about a fourth the time as it did yesterday.
While I mowed today in the opposite direction as yesterday, the area is going to need one more pass. I'll probably mow tomorrow perpendicularly to the previous mowings.
My gardening plan for today was to finish washing and drying the trays I started soaking in bleach water yesterday and then start cleaning a bunch of dirty pots. For afternoon fun, I hoped to turn under the buckwheat I mowed a third time yesterday. But the weather isn't cooperating. It's cloudy with scattered thunderstorms and windy. That definitely isn't good drying weather for trays that can easily blow away in the wind or for rototilling.
Instead, I went out to check our Goliath broccoli growing for seed. One plant was ready to be cut for drying, but its stem was too thick to just snap off. I used our lopping shears for that job. I then spent a good deal of time trimming mature seed pods off the plant onto a cookie sheet to finish drying. I was surprised by how many seed pods had split already, spilling their seed onto the ground. There are three or four more broccoli plants approaching the stage where I'll cut them for seed.
I also harvested more dianthus seed from our two plants growing in our herb garden. Removing the seed pods encourages the plants to bloom more, and of course, provides us with some free seed.
I'd started soaking some garden trays and pots in bleach water on Tuesday. Yesterday turned out to be too cloudy and windy for drying trays and pots on the lawn. But today is sunny with little wind, but it's going to get really hot. I started rinsing trays around eight in the morning, well before the sun was on the area where I laid the trays out to dry. After the trays, I began working on pots of various sizes, eventually soaking and rinsing some fourpack and deep sixpack inserts.
The trays were dry by mid-afternoon. I let the pots sit until evening to dry.
While I might bring in some problems with grass clippings that stick to the trays and pots, I feel a lot better about reusing them after somewhat sterilizing them in bleach water. The used bleach water went on weedy spots around our house and on our driveway.
The seed cleaning screens I'd ordered came in yesterday. I put them right to work and was fairly pleased with the results. The broccoli seed cleaned best with the 1 mm screen although the 0.7 mm screen removed some dust from the the seed.
I finished rinsing trays and pots around eleven this morning. With temperatures headed for the mid-90s with a heat index of 110°F, I've chosen to mostly stay inside in the air conditioning the rest of the day. I'm trying hard to remember that I'm not a kid anymore and need to take some health precautions in this hot weather.

Monday, July 31, 2023 - July Wrap-up
It's been a hot, dry month. We got around five inches of rain the first two days of July and then almost nothing the rest of the month. Surprisingly, we are still getting some nice harvests. Our terribly stunted Earlirouge tomatoes are putting out quite a few good tomatoes. I started our first batch for seed saving on Friday.
I've dried, bagged, and stored most of our onions. But there are still a few Red Zeppelins refusing to topple over and continue to try to grow. Our harvest of fall planted Walla Walla sweet onions was fabulous. Because sweet onions can go bad pretty quickly, I chopped and froze about half of them.
Our garlic harvest was disappointing. But I still made garlic powder from some of last year's harvest and culls from this year's harvest. For the first time in years, I felt it necessary to order more garlic for planting this fall.
We also harvested some beets, carrots, some lovely yellow squash, and a few peppers and cucumbers. For a really dry month, that's not bad.
I started our succession crops of lima and green beans. While they're up and looking good, I'm worried that I should have planted wide rows of them instead of narrow rows. Our succession crop of Japanese Long Pickling cucumbers are looking good.
Our table full of mature gloxinias on our dining room table now look terrible. I worked too much on pollinating blooms. The plants are now not blooming much and are working on maturing seed. The gloxinias I seeded in mid-June were ready yesterday to be moved into fourpacks. Since we lost a lot of plants in dormancy this winter, I transplanted sixteen of the new plants. I've obviously doing something wrong in dealing with gloxinia dormancy.
I mowed down (three times) our planting of buckwheat. I haven't turned it under yet, as I need to mow first before switching our lawn tractor over from its mower deck to the pull-type tiller. The changeover takes several hours.
I've been scalping the grass around our rows of melons. As I mow and collect grass clipping, I mulch around the long row. I'm just barely staying ahead of the melon shoots rapid growth.
I've done a lot of seed saving this month. The main focus has been saving Goliath broccoli seed. I removed all but three of our Goliath broccoli plants for seed this morning. I left the last three as they were still drying some rather large seed pods
Beyond that, I've started a batch of Earlirouge tomato seed, some dianthus flower seed, and a lot of the supersweet eclipse pea seed.
After picking Earlirouge tomatoes both yesterday and this morning, I decided I had enough to make a small batch of tomato purée. I washed and heated the tomatoes a bit before running them through our Squeezo Strainer. It made four and a half pints of purée...without burning it!
Mistake??
I'd planned to mow today, but boiling down tomato juice to purée requires watching and regularly stirring. Was it a mistake, or was I just trying to avoid mowing?

Contact Steve Wood, the at Senior Gardening