Monday, March 2, 2020 - Preparing a Pea Bed
I prepared a planting bed for our tall, early peas today in our main raised garden bed. After staking and stringing the area to be planted, I raked out a couple of inches of soil to form a sixteen inch wide trench in the soil. I then sprinkled some 12-12-12 fertilizer, ground limestone, and inoculant over the bed and hoed them into the soil.
While I would have loved to seed the bed, I decided to wait to do so until tomorrow. We treat our early pea seed with Captan
fungicide which probably could kill the inoculant. So with rain predicted for tonight, I'm hoping the inoculant will get washed into the soil enough to not be harmed by the fungicide that protects the pea seed from rotting. Anyway, it's supposed to be sunny tomorrow.
I'd painstakingly scarified some of our saved Abundant Bloomsdale spinach seed Saturday night. It had performed poorly in a couple of germination tests. So I scraped the seeds one at a time across an emery board to break the seeds' hard outer shell. I starting soaking the seed that same night.
Today, it appeared that some of the seed had already germinated in the soaking jar. So while I was outside playing in the garden, I made a shallow furrow down one of our narrow raised beds and planted the spinach seed. The rest of the bed won't be planted for some time, as it is reserved for our Earlirouge tomato plants.
It's really early to be planting stuff in the garden. But we have about ten days of nice weather with highs near 50° F predicted. Yesterday, it got up to a pleasantly unseasonal 63° F, but we also had steady 30-35 MPH winds.
I got our early peas seeded today. After preparing a bed for the peas yesterday and with our ground thawed, I was able to use my preferred method of direct seeding early peas. I tell about a couple of other planting methods for partially or totally frozen ground in our how-to, Another Garden Delicacy: Homegrown Peas.
I'd made a two inch deep wide row for our pea seed yesterday. Today, I wet our Champion of England and Maxigolt pea seed before rolling the seed around in a bowl of Captan fungicide. I spread the seed over a cookie sheet to dry a bit in the sun. Said cookie sheet gets used only for drying seeds.
I generously broadcast the seed into the row. While I make use of Captan, I wore latex gloves
when handling the seed. Captan was once listed as a probable human carcinogen (removed from that status in 2004). But it is also quite good at preventing seed rot in cold, damp soils.
Using a garden rake, I pulled soil over the seed and tamped down soil with the head of the rake to ensure good seed to soil contact. Once the seed emerges, I'll drive in T-posts along the sides of the wide row to hold up some nylon trellis material. Once the peas are done and the vines pulled, the trellis will do double duty holding up our crop of Japanese Long Pickling cucumbers.
We had a fabulous pea harvest last season and are hoping for more of the same this year. We're down to our last bag of delicious homegrown frozen peas from last year.
Beyond warm temperatures and sunshine, my pleasant surprise of the day today was seeing several garlics up. It's not unusual for garlic to begin to emerge in March. But I always sort of hold my breath until I see it emerging each spring.
I've thought to cut down how much garlic we grow. We end up giving away more garlic than we use each year. But every few years, we have a bad harvest with just enough for our cooking needs and to replant the next season. So I'll probably continue to plant four fifteen foot rows of the stuff each year. Our family and the local food bank appreciate the excess.
We're off and running on gardening with direct seedings of spinach yesterday and peas today, but that will be it for a while. I have lots of stuff to care for and more to start inside. Our next big plantings won't be until early April. Then we'll do cauliflower, broccoli, lettuce, onions, carrots, and maybe some beets.
As I eagerly await our first peas planted on March 3 to emerge, I ran across a couple of good articles on starting peas on SFGate, the San Francisco Chronicle's Home Guide.
With fairly warm and rainy conditions predicted for the next week, I expect to see some peas sprouting soon.
Our Perseverance petunias had outgrown their egg carton and needed uppotting today. I used a teaspoon to gently remove each petunia and its root ball from the egg carton before placing them in fourpack inserts filled with soil. I was able to put the petunias a little lower in the soil than they had been, as many of the plants had rather thin lower stems. Since fourpacks won't fit on the windowsill, the plants went under our plant lights in the basement.
I've not written much here for a week, as there really haven't been any big deals going on in our garden. Our daisies and celery are up. There are an awful lot of daisies to be transplanted from their communal starting pots into larger quarters.
I thinned our lettuce planting to one plant per fourpack cell this evening. I also transplanted Sun Devil and Crispino lettuce from communal starting pots to fourpacks. I'd seeded those lettuce varieties fairly heavily, as I was using saved seed. The Crispino seed was saved in 2014 and the Sun Devil seed was saved last season. It turned out that almost every seed germinated, making a mess of plants in each four inch communal starting pot.
I still need to spray our apple trees with dormant oil. I'm waiting for a day when rain isn't predicted, it won't freeze overnight, and it is not too windy for spraying.
I'm once again running out of space under our plant lights. I have lots of stuff to get started in the next week or so and lots of plants started in communal pots that need to be transplanted into fourpack inserts.
To make room for everything, I decided it was high time some plants got moved outside under our cold frame. It has sat without its plastic cover by our garage all winter. When I drug the PVC cold frame to the house, it came apart in a couple of places. That's happened before and can be fixed fairly easily with some PVC cement
and duct tape
.
I begin using our cold frame about mid-March each year. While we could still have some really cold nights that might require bringing everything back inside for a night or two, our current extended weather forecast has only one overnight low below 28° F, about the cold frame's limit of protection.

First out under the cold frame will be our onions and brassicas. They're pretty cold hardy plants that can survive a mild frost even without a cold frame. I hope to be transplanting them into our garden in about three weeks, giving the plants plenty of time to harden off (adapt to outside conditions of heat, cold, bright sun, UV, strong winds, etc.).
I moved two hanging baskets of petunias to a protected area of our back porch today. Close to the house, the plants should stay warm enough to survive and begin hardening off. One of the hanging baskets had to be replanted a week ago. While the plants were sitting just off our plant rack, one of our cats peed all over the plants, killing them!

The repair job on our PVC cold frame took all of about fifteen minutes this afternoon. There were two places on the frame that had pulled apart. One of those places is where I cut the frame apart and added some concrete in the pipe to add weight to the frame. The wind had caught the frame a couple of times and blew it about thirty yards on one occasion!
I'm probably going to let the PVC cement cure until tomorrow before adding a covering of 6 mil plastic over the frame.
While the PVC pipe came from various big box home improvement stores, most of the corners and bends came from the Greenhouse Megastore. A few of the trick PVC parts came from Riggs Hardware, a local store in Sullivan, Indiana, that is a fantastic, old fashioned hardware store. When I was putting in our shallow well pump, they cut and threaded a pipe for the job that saved my butt.
I lucked out on covering our cold frame with clear plastic today. When I went to the garage to get our large, heavy roll of clear plastic, there was a big scrap of plastic left over from last year. It turned out to be just the right size to cover the frame.
Even with a couple of fairly cold mornings predicted for the weekend, I began moving some of our hardier plants under the frame. Two trays of onions needed a trim before going under the frame. A tray of brassicas and another of lettuce also went outside, freeing up a whole shelf on our plant rack.
For the next month or so, I'll need to open the cold frame each morning, or at least open it a crack, and close it each evening. A closed cold frame in full sun can get hot enough even on cool days to cook ones transplants. I'll gradually open the cold frame a bit more each day as the transplants adapt to outdoor conditions. I'll probably have to add a tarp over the cold frame or bring everything back inside this weekend on a couple of nights where the low is predicted to be in the mid-20s.
Thursday, March 19, 2020 - First Day of Spring
The official, astronomical first day of spring arrives tonight. Our weather today is probably appropriate for the occasion - 68° F, lots of rain and strong wind. But the days are steadily getting longer. While I thought the equinox marked the balance of hours of day and night, we passed that point a couple of days ago. NBC has an article about the timing of this equinox, having to do with leap years and such. Wikipedia has a much more scientific description of the equinox
For we gardeners, the longer days are encouragement to get started gardening. Our last frost date is just four weeks away. Our earliest transplant date for warm weather plants is six weeks out.
So today, I started our Earlirouge tomato and Earliest Red Sweet pepper plants. I'll be starting other tomato and pepper varieties a bit later, as they'll go into our East Garden plot which I can never get planting ready before sometime in late May. The Earlirouge and ERS plants will eventually go into our raised beds that have our best soil.
The tomato and pepper seed went into deep sixpack inserts filled with sterile potting mix. After watering the soil with warm water, I simply made a shallow depression or two in each insert cell with a finger, popped in a seed, and covered it with soil. Tomato and pepper seeds don't need light to germinate.
Per some online advice, I began soaking (stratifying) milkweed seed last month. I put the milkweed seed in a ziplock bag of moistened perlite and vermiculite and let it sit in the fridge for about four weeks. Seeding a four and a half inch communal pot just involved dumping the seed/perlite/vermiculite mixture over the potting mix.
Since we want our cats to go outside a lot more this summer than they currently do, I also started a four inch communal pot of catnip. I topped the potting mix with vermiculite, as catnip seed like milkweed seed requires light to germinate well. Since all of my catnip seed is ten or more years old, I just dumped what was left in two seed packets onto the vermiculite.
I continue to use lots and lots of potting soil, moving plants to larger quarters. I transplanted some Cora Cascade trailing vinca from a fourpack to a large hanging basket. I also moved some Double Cascade petunias that had gotten really big to another hanging basket pot.

While the shelves in our local groceries and discount stores are pretty bare, our local garden shop has plenty of potting soil. I stocked up on it this week, as I still have lots of plants to start in a sterilized Baccto/ProMix blend and many, many geraniums that will need to go into four inch pots soon. I use Miracle Gro Lite potting mix for the geraniums and hanging basket pots, but prefer the Baccto/ProMix for seed starting, as it doesn't have the fertilizer pellets in it that can burn seed that is trying to germinate.
Friday, March 20, 2020 - Plants Back Inside
It's now officially spring, but I still had to bring in some plants for the next two nights. It's supposed to get down to 27° F tomorrow morning, followed by a morning low of 28-30° on Sunday. While the cool weather crops we had under the cold frame could probably handle the cold, I brought in our trays of lettuce and brassicas as well as a couple of hanging baskets of petunias. I left the trays of onions under the cold frame, as they should do okay despite the freezing mornings. Also, putting the trays of onions on our dining room table might be an invitation for our indoor cats to use the trays as litter boxes.
While not what you'd want, it's pretty normal for us to have to bring plants back inside for a night or two towards the end of March because of weather colder than our cold frame can protect from.

Out in our raised beds, there's good news. Our garlic has been emerging all month, and it looks as if we'll get a good stand of it this year. That's a big relief, as I didn't get our garlic planted until December 26! And if the garlic bed looks a bit wet, that's because it is. We've had over four inches of rain the last two days.
Really brightening my outlook is that our peas are finally up. Direct seeded on March 3, I was beginning to get a little worried about the absence of any peas sprouting. I'd been checking them for a week or so. Then, a couple of days ago, I saw a sprouted pea that had apparently heaved up through the soil, reminding me to just be patient. Pea seed seems to know when to emerge in the spring.
While we get our tall peas planted really early each spring, there's still plenty of time to plant peas. We'll be starting some short, supersweet peas in a month or so out in our East Garden plot.
I tell all about our pea culture in our how-to, Another Garden Delicacy: Homegrown Peas. While I leave putting up peas to the Ball Blue Book, I cover growing peas from variety selection to seeding to harvest and seed saving in the feature.

FTC Required Disclosure Statement
Some of our text links go to the sites of our Senior Gardening Advertisers. Clicking through one of our banner ads or text links and making a purchase will produce a small commission for us from the sale.
Ivy Leaf Geraniums
It's been years since we've grown any good ivy leaf geraniums. Some years, the seed just wouldn't germinate. Other years, the plants didn't flourish. But I keep trying. This year, our Tornado ivy leaf geranium seed germinated quite well. Seven of eleven seeds started sprouted and produced plants. Only two of eleven Summer Showers seeds produced plants with one of them being really scrawny.
I potted up the one good Summer Showers and several of the Tornados today. I had some really small hanging basket pots I bought by mistake and put single geranium plants in a couple of those. I also used a big hanging basket to hold three plants. Sometimes multiple plants in a hanging basket make for gorgeous displays of blooms as they do with our petunias. Other times, only one of the plants survive, leaving an off-centered plant that may or may not look good.
I think I'm now up to nine hanging baskets started. We have fifteen hooks for hanging basket plants around our back porch, but up to three of those hooks will be used for hummingbird feeders during the summer. I still have petunias, wandering Jew, and ivy leaf geranium plants for hanging baskets not yet potted.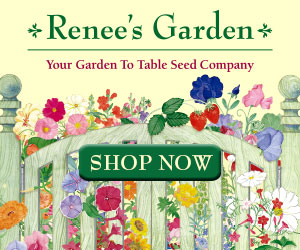 I'd been doing my best to ignore six communal pots of plant starts that really needed to be divided and transplanted into insert cells. There was a pot each of snapdragons and celery and four pots of daisies.
But with space available on our plant rack, today was the day to repot the stuff in the communal pots. Most of the plants went into deep sixpack inserts, with a few going into the shallower fourpack inserts. One daisy variety wasn't quite ready for being divided and uppotted.
I used sterilized potting mix for the transplanting, as these plants were still pretty small and tender and susceptible to damping off fungus.
While I was at it, I potted up another ivy leaf geranium plant in a small hanging basket and some petunias in a large hanging basket.
When I thought I was done, I did a quick look around the plant room and saw that some gloxinias on a dark shelf had broken dormancy. While they'll need to be repotted in fresh soil, I just set them close to the light and watered them a bit.

When I walked our raised beds today, I just gave a quick glance to the narrow bed where our Earlirouge tomatoes will go. I was intent on making sure the morning freezes hadn't damage our emerging early peas. I also looked to see if any asparagus had emerged. The peas were fine, but no early asparagus sprouts were visible. We occasionally get a little asparagus in late March, although it usually begins to produce in April.
When I prepared part of our main raised bed for our early peas on March 2, I also popped in a row of spinach along the edge of the bed reserved for the Earlirouges. On a second pass past the narrow bed, I looked more carefully and found a few spinach plants had emerged.
I'd scarified and soaked the spinach seed before planting, but didn't treat it with fungicide. Captan makes the seeds sticky and hard to spread out evenly in the row. I'd been afraid I'd erred in not treating the seed, and that it may have rotted in the ground. But it appears that we may yet get a nice row of spinach from the planting.

Of course, besides the tiny spinach plants, I also noticed lots of pebbles that had pushed to the soil surface over the winter.
We started today with some heavy fog that still hasn't totally lifted by afternoon. Fortunately, our freezing mornings seem to be in the past, so I moved a tray of petunias and a couple more hanging baskets out under the cold frame. The broccoli and cauliflower under the frame are doing well, but our tray of lettuce is looking a bit weather beaten. I find myself surprised that in just a week or so, I may be moving some of these plants into our main raised garden bed.

The milkweed and tomatoes I seeded last Thursday are all now up. The milkweed that had been soaking in perlite and vermiculite in the fridge for a month popped up in just a couple of days. I got way too much seed in its communal pot and will have a fine time separating the plants into inserts in a week or so. The tomato plants are in deep sixpack inserts and agreeably are coming up one plant per cell (so far, I did put in some extra seed per cell). The Earliest Red Sweet peppers I started on Thursday are just beginning to show signs of germination. Pepper seed normally takes a few days longer than tomato seed to germinate. So while the milkweed and tomatoes have come off our soil heating mat, the peppers remain there at a cozy 75° F.
Possibly as a celebration of an early spring, I cleaned up our grill this morning. My lovely wife scored some nice steaks on her way home from work Monday afternoon. It was her last day to go into work, as the tech support staff at her bank were ordered to work from home until further notice. If the sun will just burn through the fog and clouds, we'll grill out for supper this evening.
In this time of social distancing/self-isolation, folks might consider starting a first garden or returning to gardening. I have a half finished how-to on starting a first garden that probably won't get posted anytime soon. I did extract a section of the story a couple of years ago for one of our daughters, Some Thoughts on Where to Put a Vegetable Garden. What got me going on this subject was a notice from the National Garden Bureau of their Ten Steps for Planning Your Victory Garden 2.0 story. It's not an in depth piece, but does a good job of covering the basics.
For some reason, our local garden center and Walmart don't have any Miracle-Gro Quick Start liquid fertilizer on their shelves. It's one of those non-organic supplies I consider essential when transplanting things into our garden. So I ordered some of it from Amazon on Monday. A horn honking in our driveway today let me know a UPS driver was being cautious of our three dog alarm system. His delivery was two bottles of the needed fertilizer. Our standard starter solution when transplanting is made up of Quick Start and Maxicrop fertilizers. I rarely mix the Quick Start at anything more than half the recommended strength, but really like its 4-12-4 analysis for getting roots growing. The Maxicrop's 0-0-17 analysis isn't its only selling point, as the product contains whatever trace element(s) our soil lacks to grow good peppers! While the Maxicrop is a bit expensive, I use just a sprinkle of it in our starter solution.
With our ground far too wet for rototilling, I went ahead and worked up the area for our spring carrots by hand today. I used a garden fork to deeply work the soil, turning in peat moss and Muriate of Potash (0-0-60). While working wet ground can damage the structure of ones soil, leaving big hard clumps, we have rain predicted for next few days that should help ameliorate any damage to the soil I may have done today. Due to evidence of some mole activity, I spread Milky Spore over the entire main raised garden bed.
My emphasis on preparing the carrot ground came from using the last of our fall carrots from last season. We usually have saved carrots into June each year. Last fall's crop was smaller than usual and didn't store well.
While working the south end of our main raised bed, I spent a lot of time pulling winter weeds, mainly chickweed. I got around to pulling the chickweed just in time, as some of it was blooming. A Clemson posting notes:
This weed can produce seeds five weeks after germination and will continue to produce seeds for months. Each common chickweed plant can produce over 800 seeds and the seeds can lay dormant in soil for up to 10 years. Even once the weed is uprooted, it can continue to produce seeds and can even reestablish itself, if left on the ground.
While rooting out chickweed isn't my favorite garden activity, it was sure nice to get outside working in the garden on a day when temperatures were in the upper 50s.
FTC Required Disclosure Statement
Some of our text links go to the sites of our Senior Gardening Advertisers. Clicking through one of our banner ads or text links and making a purchase will produce a small commission for us from the sale.
Wow! We had a truly lovely day today. It was sunny at times with a high temperature of 75° F.
I got outside to hoe the area I'd worked up for our carrots yesterday. I also scuffle hoed the area I'd weeded. Not surprisingly, some chickweed I'd missed had taken hold again...in just a day. While I waited too late yesterday to get a good existing light photo of the chickweed pulled, I got a shot of it in our cart today. It will go onto our compost pile.
The little bit of spinach I showed here on Sunday appears to be all we're going to get from that direct seeding. So today, I dug our spinach seed out of the freezer, soaked some of it a bit, and reseeded the bare sections of the spinach row. I'm growing all Abundant Bloomsdale spinach this spring, as I want to save seed from it towards the end of its run. However, I also really like the open pollinated America variety and will probably grow some of it with our fall spinach crop.
Today was also changing of the guard day for the Wandering Jew plant that hangs in our kitchen. The plant that had decorated a kitchen window since this time last year went outside for the summer. It was replaced by its progeny taken as cuttings in mid-December. Wandering Jew plants get pretty nasty after 12-18 months as leaves dry, stems harden, and the plant begins to drop lots of dead growth. We replace our Wandering Jew in the kitchen window each spring with a plant grown from cuttings taken during the winter.
Saturday, March 28, 2020 - Uppotting Geraniums
Our geraniums seeded in January were ready to be moved from their three inch pots to four and four and a half inch pots today. As in years past, I was once again able to do the job along the edge of our back porch, as we're blessed with another 70+° F day today. I'm absolutely loving these warm days with the heat turned off and the back door left open.
Even though I had an unopened bag of Baccto Lite potting mix on the back porch, I drug our large bag of Miracle-Gro Moisture Control
potting mix up from the basement for the job, as the geraniums are ready for a jolt of fertilizer. I'm saving the Baccto for seed starting (tomatoes, peppers, melons, squash, etc.).
While the uppotting uses a lot of rather expensive potting soil, it gives the geraniums a real boost about three weeks before they go into the garden. The uppotted geraniums went under our cold frame, filling it for now to its capacity. Twelve of the twenty-five geraniums uppotted today will go at the corners of our raised beds. The rest will go wherever I have an open spot along the edge of our garden plots.
Other
I was pleased to see that our early peas have unfolded leaves. Previously, the plants had put up spikes or sprouts, but hadn't opened any leaves. It won't be long before the pea plants begin putting out tendrils seeking support. I'll probably need to erect our usual double trellis next week to support the tall pea vines. The trellis should stay in place all season. After the peas are done, I'll transplant vining cucumbers into the area.
Our bed of garlic continues to look good. With some of the grass in our yard clumping, I'll need to mow for the first time this season sometime next week. The collected grass clippings will be used to mulch the garlic plants to suppress weeds and conserve soil moisture.
I'm still carefully watching our asparagus bed for signs of growth. So far, I haven't seen any, other than some weeds that required pulling. But it shouldn't be too long before we have asparagus sprouts pushing up from the roots.
As my wife, Annie, and I continue to self-isolate from the coronavirus like many in this nation, I see more and more online articles about getting a garden started. In the Terre Haute Tribune-Star today, writer Mark Bennett has a good one in Looking for outdoor activity? Till a garden.
Our rural Indiana county has now recorded its first case of Covid-19. Both Annie and I are reluctant to venture into town, except for essential supplies (bread, milk, cigarettes, scotch!). I noticed this morning that our water softener was out of salt. It will have to wait until I venture into town for real essentials. I did, however, score a package of off brand toilet paper this week at our incredibly poorly stocked Sullivan Walmart.
Sunday, March 29, 2020 - Uppotting Geraniums
After a lovely day yesterday, I'm stuck inside today because of some incredibly strong winds. I got outside only to move some of our hanging basket plants to a more sheltered location.
Inside, I moved some Silver Princess daisies to fourpack inserts and some milkweed to deep sixpack inserts. I was amazed at how long the initial root was on some of the daisies. I'm glad I used deep inserts, although I still had to bend the deep roots to get them into the insert cells.
I quit transplanting when I ran out of sterile potting mix. I filled our deep kettle with Baccto Lite and ProMix and popped it into the oven at 400° F for an hour and a half. The sterilized soil won't be cool enough to use for a few hours. Folks wanting a quick method of sterilizing soil to prevent damping off fungus could just pour boiling water over the soil in their planting containers, although I'm not sure that method is as effective as the oven baking.
Tuesday, March 31, 2020 - March Wrap-up
Weatherwise, it's been a fairly typical March for us. We've had warm days and some freezing mornings that required bringing in what plants we had outside. But it's also been a productive month.
I direct seeded spinach and peas early this month. The peas are up and doing great while the spinach required a bit of re-seeding of bare spots in the row. And our garlic planted last fall is looking good so far.
I got Earlirouge tomatoes, Earliest Red Sweet peppers, milkweed, and catnip started inside this month. A lot of previously started plants (onions, brassicas, lettuce, geraniums, petunias) got moved outside under our cold frame.

Backyard Flocks
In these times of self-isolation and shortages at the grocery, folks are beginning to garden more and consider a backyard flock of chickens. I ran across a timely article in the Washington Post this morning, People rush to raise backyard chickens amid egg shortages, coronavirus concerns by Emily Davies.
The best book I've found on getting into raising chickens is still The Family Poultry Flock
by Lee Schwanz. Long out of print, the small guide is still available used from Alibris
and Amazon
. Schwanz also has a newer guide, The Backyard Chicken Book: A Beginner's Guide.
Now some thirty years removed from farming, I still miss having our own laying flock. Having livestock does tie one down, though. You can't send your chickens, hogs, and cattle to a kennel for a week! I don't miss the month after slaughtering chickens. After the smell of butchering 25-50 fryers each year, I couldn't eat chicken for a month or more. But there's a giant difference in flavor of home grown poultry over store bought.
Trees Down
After losing our Granny Smith apple tree to root rot two years ago, the affliction apparently spread to our coniferous trees. We lost all of our pines and blue spruce to apparent root rot. At least, that seemed to be the problem. The blue spruce looked fairly healthy right up until the time they blew over in the wind.
I contacted a former student at my old school who'd done some good tree work for us in the past. His crew took two days to take out eight trees, grind the stumps, and haul everything away. The area just north of our raised garden beds looks really bare now. I'll have to get busy replacing the trees, as we need a windbreak on that side of our house.
Hmm...or maybe I could add another garden bed there!
Contact Steve Wood, the at Senior Gardening