Our gardening in April is starting out fairly slowly despite some really nice weather. I mowed grass for the first time this season on Wednesday and Thursday. Mowing our yard where we'd had trees removed was interesting. While the tree crew did an excellent job of cleaning up, there still were lots of small wood chips in the yard from the tree removal and stump grinding.
While I'd rather have been transplanting brassicas today, I decided to wait a bit. The soil in our raised garden beds is still incredibly wet. Instead, I worked at cleaning up some pruning I'd done on our laurel bushes outside a kitchen window. I gave that up after nicking myself on the sharp edges left on the bush from the pruning. I let some bindweed get away from me last summer in that area and am now having to work pretty hard to cut the last of the vines which tend to come up rooted close to the base of the laurel bushes.
A joy today was transplanting eight geraniums, two petunias, and a dianthus into our raised beds. A couple of the geraniums went into our herb bed along with a dianthus. The rest of the geraniums and the petunias went into our other raised beds around areas already planted (peas, garlic). While we're not quite to our frost free date (April 14), I have lots of petunia and geranium plants and am willing to chance getting an early start with them.
Transplanting one of the geraniums involved hacking back some oregano. Our oregano plants have threatened to take over one side of our herb bed, if not the whole world, each year. A dianthus shown in the photo above left managed to survive the onslaught of the oregano last summer and overwintered well. We often get three seasons of nice blooms from our dianthus plants.
One very nice surprise this week was how well our fairly new John Deere X-570 mower worked. We have Alliance Tractor out of Vincennes service it each winter. Having totally worn out a John Deere X-500 in just seven season, I decided to stay with the upgraded model as it supports our pull-type tiller. The mowing was uneventful and now we'll move on to trying to get our large East Garden plot tilled.
I'm not quite sure about the the ad link below. The boys from the Garden Tower Project are offering face mask frames in this time of coronavirus fear. They're selling frames where you add the fabric to cover them.
Saturday, April 4, 2020 - First Asparagus
When looking over our main raised garden bed today, I noticed what appeared to be a couple of tall weeds possibly behind our raised bed of asparagus. When I approached the bed, it turned out that what I saw were two tall spears of asparagus, our first of the season. One spear was only pencil thickness while the second one was a good bit fatter. While asparagus can grow at an amazingly fast rate under the right conditions, I think I must have just missed seeing these spears yesterday.
Having discovered the two spears of asparagus in our raised asparagus bed, I walked back to what we call Bonnie's Asparagus Patch (after the land owner). It's a very old planting of asparagus that has been here since before we moved in twenty-six years ago. It got mowed down a couple of times each summer when the farm renter took care of the property around us. When we began caring for the area behind our property, I discovered the patch and fertilized it a bit. With our bed of asparagus and Bonnie's, we're sometimes overwhelmed with a bounty of fresh asparagus.
While there weren't any spears to pick today from Bonnie's patch, I could see a spear or two beginning to break through the soil surface.
Our how-to feature, Growing Asparagus, covers how to start and care for an asparagus patch. It's something that takes a bit of time. From transplanting to first harvest takes three years, but it's definitely worth the wait if you like asparagus.
Another Pleasant Surprise
As I walked back to the house with my two precious spears of asparagus, I got another pleasant surprise. The two sage plants in our herb bed around our shallow well have come to life. I didn't notice any new growth on them yesterday when I was transplanting flowers into the bed and weeding a bit. But both plants are alive and well, beginning their fifth season in the ground. I'm hoping we might get some pretty blooms from the sage. We have plenty of ground sage from years past, but I do love to see purple sage in bloom. While we mark our East Garden's corners and halfway marks with sage plants, they only put up some meager blooms each year. Our best sage blooms came way back in 2013.
The plant in between the sages is parsley. Parsley is a biennial, so we may get some saved seed from the plant this season. Since I dried a lot of parsley last year, I may not grow all that much of it this year.
Other
Apparently, every Earlirouge tomato seed I started last month germinated. I spent a few minutes today moving the extra plants to another deep sixpack insert. While I started one sixpack insert and a few more cells in another, it appears that I'll end up with twelve Earlirouge plants, about double of what I'll need.
I also broke up our communal pot of catnip yesterday. I transplanted plants into a deep sixpack insert. I used the deep insert more because it had six cells than its deepness. The catnip will go just off our back porch in front of our laurel bushes. While our cats will only have to jump off the back porch to get high, our closest outlet for legal weed is in Effingham, Illinois, a ninety minute drive from here. I haven't smoked weed for over forty years, but Effingham also has some great shows at the Effingham Performance Center, a frequent weekend getaway for Annie and I.
More Other
I had to go into town today to pick up a prescription. I noticed that about half the customers in our local Walmart were wearing masks, per the CDC's recent change in recommendations. I didn't wear one, as our last face mask is sort of reserved for when my wife has to go into work. I'd kept some on hand for when I sprayed our apple trees with some rather non-organic materials. I did go ahead and order some face mask frames yesterday from the Garden Tower Project.
I have a pot of green beans boiling with some ham and bacon for supper. We'd had green beans from our garden this week when I'd baked a half of a half ham. I'd forgotten how delicious homegrown green beans can be. While out and around today, I picked up a rotisserie chicken for supper at the grocery. I noticed that some of the checkers there were gloved and had on face masks. Other checkers wore no protection at all. It's a crazy time in our world now.
Annie and I thoroughly enjoyed one spear of asparagus each with our dinner last evening. Today, there weren't any more spears that had emerged, although one in Bonnie's Asparagus Patch has almost poked its head out of the ground.
I staked the rows for our broccoli, cauliflower, and Brussels sprouts today. Once I defined the area to be planted, I scuffle hoed it to knock down emerging weeds and even out the soil a bit. I didn't transplant anything today, as I'm a bit intimidated by the prediction of a couple of frosty mornings (34 and 35° F) towards the end of this week. When I found myself frowning at the extended weather forecast, I remembered that those potential frosts may occur days before the final frost date for this area.
Before working in the garden, I brought two trays of hanging basket plants outside to begin hardening off. There were single pots of petunias and vinca and three baskets of ivy leaf geraniums. Even with the chance of frost, these plants were ready to go out. Since the plants are in trays and have their hangers attached, they're easy to bring back inside for a night or two if necessary.
I'd hoped to transplant brassicas this week, followed by transplanting onions, celery, and lettuce and direct seeding spring carrots. But the weather forecast has made me a bit more cautious. It may be mid-month before I get all that stuff in the ground.
Monday, April 6, 2020 - Transplanting Broccoli and Cauliflower
Even though our extended weather forecast predicts a couple of cold mornings this week of 32 and 33° F, I decided to go ahead and transplant our spring brassicas today. In one of those duh, slap-your-forehead moments, I realized that I have plenty of AG-19 floating row cover on hand which can generally protect plantings down to around 28° F. And broccoli and cauliflower handle cold mornings pretty well.
My gardening today actually began inside. I had to cut down a bunch of old paper coffee cups to use as cutworm collars. Moving outside, I gathered my supplies, strung my first row, and began digging holes about twenty inches apart down the row.
Each planting hole got a liberal sprinkling of lime to prevent clubroot and 12-12-12 fertilizer as brassicas are heavy feeders. The soil additions got worked into the base and sides of the hole with a trowel.
Then I refilled the holes with dug soil and placed a cutworm collar on the soil, working it into the ground just and inch or so. I filled the cups with loose soil, watered, and squished in a transplant. As I moved from row to row, I was extremely careful in removing the string that marked the row. I've cut plants in half in the past when I got careless pulling the string.
In all, I transplanted 7 Goliath, 1 Green Goliath, 3 Premium Crop, and 4 Castle Dome broccoli, and 2 Violet of Sicily, 4 Fremont, and 1 Amazing cauliflower. In a bit of bad planning, I left no space for the Brussels sprouts transplants I have on hand!
Two final steps of the transplanting were to spread some Repels All around the planting to discourage rabbits and deer. (I found deer tracks in our pea row last week.) As I was transplanting, I noticed that something had been nibbling at our brassica transplants. While it's a bit early for cabbage loopers or small white cabbage moths, (I saw one of the latter today.) I sprayed the planting and leftover transplants with Thuricide.
The cutworm collars will come off in a week to ten days. While the protection against cutworms is essential for us, the trade-off is that the collars limit lateral root growth somewhat. And with our next mowing of the lawn, I'll collect grass clippings to mulch the planting of brassicas to hold back weeds and hold in soil moisture.
Our how-to feature, Growing Great Broccoli and Cauliflower, tells how we grow our brassicas from starting transplants to freezing the finished product.

Our early peas are beginning to put out tendrils which they use to attach the vines to support. While short peas can often stand pretty erect by attaching to each other, our pea varieties, Maxigolt, and Champion of England, grow to four to six feet tall, making it necessary to provide them with some good vertical support to climb. The tendrils were a signal to me that it was time to erect our usual double trellis.
After having our peas blow off a single trellis for years, I began putting our wide row of early peas between two trellises set about sixteen inches apart. I use seven foot T-posts, coated clothesline wire, and nylon string trellis netting for the job. As I worked on setting up the trellises, I framed some Reminders to Self:

Allow at least a half to full day to erect a double trellis.
Pick a windless day to install trellis netting.
While the wind did try to play havoc with my trellis netting as I hung it, I also was working in comfort. Temperatures got up near 80! Of course, our extended weather forecast still has mornings suggesting frost and one at freezing.
One thing with trellises like mine: One has to go back and re-stretch the clothesline wire multiple times over the season. After getting the top lines tight, they began to stretch and the T-posts leaned in just enough that I had to retighten the wires two more times. In a few days, I'll probably have to do so again.
Our how-to feature, Another Garden Delicacy: Homegrown Peas, gives the skinny on how we grow our peas, tall and short, from start to the table.
While I feel good about getting one more job done today, my most pleasant experience of the gardening day was getting our twenty-six year old "Senior Tiller" to start. It had refused to start in a abbreviated previous attempt last month, leaving me wondering if I needed to have it repaired or even replaced. If rain holds off a few more days, I hope to till the unplanted areas of our raised beds. If I get really lucky, I may be able to begin tilling our East Garden plot.
In a day where our high temperature reached 84° F, our asparagus put out lots of shoots. Of course, as I write, one of the worst thunderstorms we've experienced here rages outside with 50-60 MPH winds. Sadly, a cold front follows the storm and we'll be back to much cooler weather for the next week or so. But boy-oh-boy did we have asparagus for supper!
Knowing a storm might be coming, my gardening priority for the day was to get some of our raised beds tilled. I added a layer of peat moss to the areas to be tilled, as I haven't been happy so far this year with the soil structure in our raised beds. I'd planned to till in the peat last fall, but ended up being sick the entire month of November. A little over half of our main raised bed got tilled and part of a narrow bed where our Earlirouge tomato plants will go.
I raked the beds smooth to be ready for direct seeding and transplanting. Of course, just as I finished the last bed, the forward control cable on our old tiller broke.
Since I seem to be stuck on using big pictures this evening, I'll offer one more.
The trellis netting I put up yesterday already has pea tendrils attaching to it.
After writing this posting with our power going off an on, it finally went out for a couple of hours. Quite a storm!
With a good chance of a frost or freeze predicted in five of the next seven mornings, I went ahead and put a floating row cover over our recent planting of broccoli and cauliflower. Getting the row cover anchored was a bit of a chore in 30 MPH winds! And I wonder if the row cover pushed by the wind may break some of the brassica stems.
While I'd planned to add the row cover today, I hadn't planned on having to drag our cold frame back twenty yards or so to its previous location. The storm last night was pretty violent. Fortunately, the plastic cover on the cold frame wasn't torn.
Sunday, April 12, 2020 - Starting More Tomatoes and Peppers
We have a lovely bunch of Earlirouge tomato and Earliest Red Sweet pepper plants growing under our plant lights. Once we get past the danger of frost outside, they'll go out to harden off under our cold frame with a May 1 target date for transplanting.
I started the plants on March 19. That should make them about an ideal six weeks old when they go into our garden.
I'd originally planned to grow a lot of the same tomato varieties this season as we did last year. But I got a wake up call on our saved Quinte tomato seed that told me I needed to refresh both the Quinte and Moira tomato varieties we've worked for years to preserve. I last saved seed from them in 2017. While the Moira saved seed germinated at 70-80% in germination tests, the Quinte seed seemed well and truly dead. I was lucky to have a separate stash of Quinte seed that I'd hot water treated last year that still had some life left in it.
So when I started tomato and pepper seed today for our East Garden plot, I began with Moiras and Quintes. Our other open pollinated tomato varieties for our East Garden will be Crimson Sprinter, Bradley, and Red Pearl (the best tasting grape variety I've ever grown). I also started some hybrid tomato varieties: Bella Rosa; Dixie Red; Mountain Fresh Plus; and Honey Bunch, a prolific producer of grape tomatoes.
All of the tomato seed started had been hot water treated. I used one tomato variety last season whose seed hadn't been treated and brought anthracnose into our East Garden plot with it.
Our peppers for the East Garden are almost all hybrids. New Ace and Red Knight are our favorite reds, while we'll be trying the yellow Abay variety again. I also seeded one cell to Sunray, an excellent old yellow hybrid variety I saved seed from last season. I'm not sure what we may get from growing out seed saved from a hybrid, but hope to get some good yellow peppers from it.
And even though our ground paprika jar is full from last year's crop, I started a sixpack of Hungarian Spice paprika peppers.
The seeding today was pretty straightforward as described in our how-tos, Growing Tomatoes and Growing Peppers. I filled a tray of deep sixpack inserts with sterile potting mix, made a slight depression with a finger in the soil in the center of each cell, dropped in a seed, and covered it with an eighth to a quarter of an inch of soil. I also added extra seeds at the corners of some cells, as some of our seed is getting pretty old.
The tray of tomatoes and peppers went under our plant lights and onto a soil heating mat set at 76° F.
April 12 is actually a pretty late date to be starting tomatoes and peppers in our region. But the plants started today will eventually go into our East Garden which I often don't get planted until late May. The lateness in planting sometimes yields some gorgeous tomatoes late in the growing season well after most of our early tomato plants have worn themselves out.
I had four extra cells not planted, so I seeded them to dwarf basil and a landrace basil from a Genovese/Large Leaf Italian cross.
Seed Orders
Taking a look at our list of Recommended Seed Suppliers, I found that Baker Creek Heirloom Seeds, Fedco Seeds, High Mowing Organic Seeds, Johnny's Selected Seeds (still accepting commercial orders), and Territorial Seeds are temporarily not taking orders for garden seed due to supply issues, health safety of employees, etc. Even the few seed houses apparently still accepting and filling orders all noted they're running well behind in filling orders due to employees being off and a huge increase in orders. Those apparently accepting and filling orders include Burpee
, the Southern Exposure Seed Exchange, Stokes Seeds (3-5 weeks for delivery), and the Turtle Tree Seed Initiative (1-2 weeks for delivery). The Sand Hill Preservation Center had no updates on its site about issues during the coronavirus pandemic.
There's lots of noise online and in the news about the coronavirus pandemic. It hits home when someone you know catches Covid-19, or worse yet, has a loved one die of it. A work friend of my wife lost her firefighter husband yesterday to Covid-19.
In this time of social distancing and isolation due to concerns about the coronavirus, it seems a bit strange to write about another health concern. But with lots of folks apparently beginning or returning to home gardening, it's important to remember to protect oneself from the sun's harmful rays. So here's your annual nag about UV exposure from Senior Gardening.
Just like reading about the virus pandemic, writing about skin cancer is a bit of a downer. At this point in life, we seniors can't do anything about the severe sunburns we received as children or later in life that often lead to skin cancer. But not adding to the danger of skin cancer is something we can do to enhance our length and quality of life.
Beyond getting appropriate medical care, protecting oneself from UV radiation while still being able to do the outdoor things we gardeners love is a major concern. The CDC notes that the hours between 10 A.M. and 4 P.M. (Daylight Saving Time) are the most hazardous for UV exposure outdoors, with UV rays being greatest during the late spring and early summer in North America. A heavy cloud cover can filter out some UV, but not as much as you'd think.
I'm acutely aware of the dangers of sun exposure, as I've had more than a few skin cancers removed over the years and regularly have to use a rather expensive fluorouracil cream product on potential cancers. Being fair skinned, having gotten several severe sunburns during my childhood, and then riding a tractor for eight years with a thin T-shirt on when I was farming, I'm probably experiencing just what happens when one doesn't observe proper precautions.
The trick for we senior gardeners prone to actinic keratoses and/or skin cancers is to find ways to garden without exposing ourselves to too much cancer causing UV radiation. Keeping in mind the CDC recommendations and checking UV scales often posted on weather sites can guide one on when it is safest to work outside. But not all jobs can be done in the early or late hours of the day. For me, mowing is one of those jobs where I have to be out in the sun at peak UV hours.
I've come to rely on sun protective clothing
, and to a lesser extent, sunscreen,
for protection from the sun when working outside, even in low UV hours. In the early spring, I start wearing one of several sun protective shirts and bucket hats when I'm outside, even when going shopping! Since we live in a windy area, I appreciate the chin strap on some of the hats to keep me from having to chase them across the yard. My "sun gear" hangs just inside the back door to remind me to put it on.
When I get into serious gardening in warm weather, I generally wear a T-shirt with a sun protective shirt over it along with a bucket hat. And since I've had cancers both on and in my hands, I wear gloves almost all the time when working outside.
At one time, Coolibar
was the only show in town for sun protective garments. With more awareness about skin cancer in recent years, other entities such as Columbia
, the REI Co-op, UV Skinz, and others have entered the market. Hopefully, such competition will eventually reduce the price of sun protective gear, which until recently has been quite expensive.
Required FTC Disclosure Statement
Some of our text links go to the sites of our Senior Gardening Advertisers. Clicking through one of our banner ads or text links and making a purchase will produce a small commission for us from the sale.
Here are some related links about UV radiation and protective clothing:
Other
I was thinking about starting some more snapdragons today, only to remember that I'd used the last of our sterile potting mix doing yesterday's planting of tomatoes and peppers. So our big kettle filled with a half and half mix of wet Baccto Lite and ProMix is in the oven right now.
I would have sterilized soil yesterday, but the oven was occupied re-heating a rotisserie chicken I'd picked up days ago at the grocery. It served two meals of chicken, another of mixed vegetables and rice, and tonight will finish its run as chicken and dumplings. Getting four meals (for just two of us, mind you) from a piece of meat isn't all that unusual for us. Coming from depression era parents, we were taught to never waste anything.
Outside work today isn't an option. It's turned somewhat cold again. We also are having wind gusts of 40-50 MPH! Interestingly, our cold frame hasn't blown away as it did in a severe storm last week. I wonder what blew over our house that night and what the wind speeds were to lift the frame and throw it twenty yards.

We now have a pretty full row of spinach up. I seeded the first of it on March 2. I went back and re-seeded some major bare areas in the row on March 27. I should begin picking baby spinach leaves in a couple of weeks.
The cold snap we're experiencing has slowed down our asparagus. We often start the season picking every other or third day. I picked enough today that proved to be more than Annie and I could eat for supper.
It appears that we still have two freezing mornings coming up. I haven't brought in our porch plants, as the porch area usually stays a bit warmer than temperatures out in the garden. Our cold frame is sealed over our transplants. Once concern is a small hole I found today in the floating row cover over our brassicas. Since broccoli and cauliflower handle light frosts pretty well, I didn't bother to patch the hole.
I seeded communal pots of parsley, dill, and snapdragons today. The dill and snaps require light to germinate, so their seed got sprinkled over pots filled with sterile soil and topped with vermiculite. Parsley requires total darkness to germinate, so that seed went onto the soil surface and got covered with vermiculite. The dill seed was saved seed from 2016, so we'll see if I get something from it.
Wednesday, April 15, 2020 - Gloxinias
We're having another gusty, cold day again today. Temperatures have remained in the mid-40s with winds gusting to 30 MPH and more. Our overnight lows for the next two days are predicted to be below freezing. Wow! This is spring?
I checked our shelf of dormant gloxinia plants last night and found eight plants that had broken dormancy. I watered them, but left the repotting of them until today. Only six plants remain on the dormancy shelf...and of course, they could be dead. We lose a few plants each year in dormancy.
Gloxinias break dormancy with different appearances. Some younger plants put out one or two new stems from the corm while some older plants put out lots of new stems. A saving grace of the plants such as the one shown at left is that they can endure for several weeks after breaking dormancy without any water. I just missed the one at left and let it get pretty tall.
All of the gloxinias today got repotting with fresh soil in the same size pots they'd been in. All of the plants in four inch pots still had fairly small corms. One plant in a six inch pot had a corm that almost filled the pot side to side. I debated putting it into an eight inch bulb pan, but decided not to.
For the repotting, I squeeze the pot to loosen the soil at its edges and dump the plant and rootball onto my hand. I claw off soil without or with few roots on the bottom and sides of the plant. Then it goes back into the pot that has some fresh potting soil and a bit of systemic insecticide in it. I drive the corm into the new soil and fill and firm fresh soil around the corm. The plants go under our plant lights in a tray filled with water. (I try to always bottom water our gloxinias, as water splashed on their leaves results in brown spots.)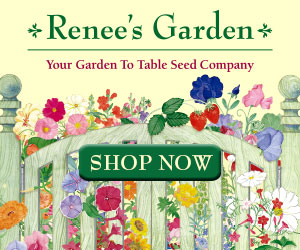 Weatherwise, it's already been a weird spring. This morning proved to be no different with an overnight low of 28.5° F, followed by some light snow mid-morning. By this afternoon, the sun was out with temperatures approaching 50°.
While it was snowing with no accumulation, a farmer was working the field next to us.
A quick glance at our plants under the cold frame and along our back porch revealed no frost or freeze damage. I suspect the geraniums I set out in our raised beds may show some damage by tomorrow.
We don't have a freeze warning for tonight/tomorrow morning, but have another freeze predicted for Saturday morning. After that, our extended weather forecast looks pretty good for gardening.
I was quite pleased this morning when I removed the floating row cover from our three rows of brassicas. It turned out that we lost only one broccoli plant during our freezing weather.
I was reminded of how cold the ground is when pulling the anchor pins I'd used to hold down the row cover. The few large, plastic re-pin anchors
I had came out of the ground easily. The cheaper, but effective metal anchor pins
I'd hammered in had to be dug out of the nearly frozen soil. My fingers were numb from the cold ground by the time I got done.
I'm going to give the broccoli and cauliflower plants a day to adjust before pulling their cutworm collars.
While we didn't lose our brassicas or peas to the freezes we've had recently, the cold mornings took several of the geranium plants I'd over optimistically set out.
We have one last frosty morning in our forecast predicted to be 34-36° F. That's keeping me on hold on any new plantings or transplantings until after the possible Wednesday morning frost.
Even so, there were still jobs that needed to be done today. The first was removing the paper cup cutworm collars from our brassicas. I cut down each side of the cup and removed them a half at a time. Then I pushed up and firmed soil around the base of the broccoli and cauliflower plants.
I also applied some nitrogen heavy liquid fertilizer to our garlic. Some of the leaves of the plants are browning, a sign of nitrogen deficiency.
When I came inside, I noticed something showing under the far side of the one hummingbird feeder I have hung so far. At first, I thought it was a wasp. Moving to a different window with a better angle, I saw our first hummingbird of the year.
It seems that I'm only getting one or sometimes two gardening jobs done each day. Our cold mornings have put a hold on new plantings until after tomorrow morning's possible "last frost." Even then, about one or two gardening jobs each day is about all my old bones can handle.
Today's job was especially satisfying. After getting a good stand of garlic, I hadn't been happy lately with the way the garlic looked. It could have been the cold mornings, but some flashing (browning of leaves) indicated a possible nitrogen deficiency in the soil. And I hadn't been able to replenish the bed's organic matter with peat moss last fall due to being sick almost the whole month of November.
Yesterday, I sprinkled some liquid fertilizer over the garlic bed. Today, I spread some 12-12-12 solid fertilizer and a bit of lime between the rows of garlic plants. I shoveled peat moss between the rows and used a soil scratcher to loosen the soil that had hardened a good bit.
With some rain predicted towards the end of this week, I'm hoping the garlic will perk up a bit.
When our weather reverted to some cold mornings, our asparagus just stopped growing. With some recent warming, I got a nice picking today.
Thursday, April 23, 2020 - Ham Salad
We're into what may be a three day rainy period. I chose to mow grass yesterday rather than getting started direct seeding and transplanting into our raised garden beds.
I had planned to start melons today, but ran out of sterile potting mix after filling ten or twelve four and a half inch pots when I needed twenty-three. While waiting for more soil to sterilize and cool, I made ham salad.
Our recipe for ham salad is like many online. I vary from the online recipes by using lots more eggs and relish and no onion. For the uninitiated, I used ground ham, hard-boiled eggs, celery, pickle relish (that we canned last summer), mayonnaise, and mustard. I can't give amounts, as I just ground ham with our old meat grinder until it looked like enough.
Starting Melons
When to start our melons is always a quandary for me. I like our melon transplants to be no more than about four or five weeks old at transplanting. Left too long, the plants put out ungainly vines that are difficult to transplant. The issue with a starting date is that our East Garden plot where we grow our melons may dry out enough for tilling in early May or not until June. So locked inside by rain today, I just went ahead and started our melons and a couple of squash and will hope for the best.
I start our melons in four and four and a half inch pots. That takes a good bit of sterile potting mix, but also allows me to transplant two to three vines from each pot into a planting hill. To get that number of plants, I seed three or four melon seeds to each pot about a quarter to a half inch deep. I press a little potting mix over the seeds.
Most of what I seeded today went into Perma-nest plant trays covered with clear humidity domes and over a soil heating mast set to 80° F. The last odd three pots seeded just went under our plant lights, as I was out of space over our two soil heating mats.
For watermelon this year, I started a pot each of Ali Baba, Blacktail Mountain, Congo, Crimson Sweet, Crimson Sweet Virginia Select, Farmers Wonderful (triploid), Kleckley Sweets, Moon & Stars, Trillion (triploid), and Picnic.
Cantaloupe varieties seeded were Athena, Avatar, Minnesota Midget, Roadside Hybrid, Sarah's Choice, Spear, and Sugar Cube.
For honeydews, I started Kazakh, Passport, and Tam Dew.
Because they'll go into the ground about the same times as the melons, I started two pots of the yellow squash, Slick Pik. It produces lots of thin yellow squash, but the bush type plants don't last too long. When I transplant the squash, I'll start a couple more pots of the variety to ensure a season-long harvest of the wonderful squash.
I still need to start our butternut squash and pumpkins. Both will do well with a later starting date. And I really don't want pumpkins maturing in August.
I tell about how we grow our melons in our how-to, Growing Great Melons on Heavy Clay Soil.
Wow! It didn't rain today! But our ground was still way too wet to try to get our softbed of carrots, onions, lettuce, and celery in. Instead, I marked the rows for the planting and moved on to picking asparagus.
Since it rained almost all day yesterday, I hadn't picked asparagus. With a day to grow, warmer conditions, and some rain, there was lots of asparagus. I was particular in the picking, leaving lots of spears I could have picked but that should be a bit taller by tomorrow.
Having first picked our raised bed of asparagus, I moved on to picking what we call Bonnie's Asparagus Patch. Like our patch, Bonnie's had lots of spears to pick and far more just emerging. I spent a half hour or so carefully weeding the patch, trying not to harm spears just breaking the soil surface. I was pleased to see that Bonnie's patch is coming in a bit stronger than last year. I suspect the heavy layer of compost I'd applied to it last year made the difference.
Possibly as gratifying as our first big asparagus harvest, I moved our tray of Earlirouge tomato and Earliest Red Sweet pepper plants to our cold frame this afternoon. I seeded the plants on March 19. After a week to ten days of hardening off, they should go into the ground at an ideal age of six weeks old.
Two Requests
I got an email today from the Partner Marketing Manager of the A2 Web Hosting program noting that we hadn't had any recent clickthroughs from our A2 ads. If you would, please click on the ad above right. It will open a page in a new tab or window. It won't obligate you in any way, but may satisfy said program manager.
If you wish to order seed from us via the Grassroots Seed Network, please, please include a shipping address with your order. I'm about going nuts trying to get folks to supply that info with their seed orders so I can send them their seed. For some reason, spinach seed seems to be in short supply this year.
Our current listings on GSN include three of the Jack Metcalf developed tomatoes, Earlirouge, Moira, and Quinte, Earliest Red Sweet peppers, Japanese Long Pickling cucumbers, Abundant Bloomsdale spinach, and of course, our landrace blend of gloxinias.
With rain predicted for this afternoon and tomorrow, I got out this morning and raked the softbed for our carrots, onions, lettuce, and celery and the rest of the unplanted parts of our main raised bed. Noticing lots of tiny grass weeds germinating in the rows between our brassicas, I scuffle hoed those areas.
Amazed that it hadn't yet begun to rain, I gathered my planting supplies and direct seeded a short (10') double row of carrots. Just as I finished using a thin board to make my planting furrows, it began to sprinkle. I quickly seeded one row to Laguna (65) and Mokum
(54), two of our favorite carrot varieties. The other row was seeded to Nelson (56), Scarlet Nantes (65), and Yaya (56). (Numbers in parentheses are days-to-maturity figures.)
After pulling a little soil over the seed and firming it, I covered the double row with one of my 1"x6" walking boards to hold in soil moisture and hold back weed germination. By the time I had done all that, the sprinkles turned into a light to moderate rain.
For more information on growing carrots, see: How We Grow Our Carrots.
In honor of the rain, I thought it appropriate to fill a small hanging basket today with a Summer Showers ivy leaf geranium. I was pushed to do so seeing that one of our Tornado ivy leaf geraniums had begun to bloom.
In a break from the rain, I re-took some of the shots used today. I was pleased at the look of our three rows of brassicas. Getting the seedling weeds scuffled out of the rows really improved their appearance. And of course, the rain makes the soil look really rich and dark.
Our narrow bed of garlic has greened up considerably with some nitrogen and cultivation. Four fifteen foot rows of garlic will provide more garlic than we can ever use in a year. But it's fun to grow and even more fun to give away.
Our single row of spinach has struggled to get established. I had to re-seed about half the row to get a good stand. The spinach will get used for all our normal table uses, but will then be let to bolt for seed saving.
I wound up my gardening day as the sun set by grinding shells for use in the garden. As we use eggs, we rinse and dry the shells and then crumble them into a heavy freezer bag. The egg shells hold well in the freezer. When the bag is nearly full, I grind the shells in an extra coffee grinder reserved for everything but grinding coffee beans.
We use ground egg shells under our tomatoes and peppers to supply calcium to the plants to reduce blossom end rot. Our tomato plants get more egg shell than the peppers, as we can use ground limestone under the peppers to supply calcium. Tomatoes don't much like the soil sweetening effect of lime, so they get less of it and more of shell.
The egg shells are ground to speed their rate of decay in the soil and their release of calcium. I've seen crunched up egg shells last over a year in our compost piles! So hopefully, grinding the shells to a near powder increases their surface area, speeding their decomposition.
Crunched up egg shells spread on the soil surface around young transplants are said to be effective in reducing damage from cutworms. Apparently, the sharp edges of the egg shells deter the cutworms. I've only done this trick once, but with apparent good results.
Sunday, April 26, 2020 - Asparagus
As I walked to our asparagus patches this afternoon, the ground squished under my feet. We received another good rain last night that pretty well nixed any gardening today. A forecast low of 36° F for tomorrow morning also influenced me to let our lettuce plants remain under our cold frame for one more night.
Today's picking of asparagus was a bit lighter than the last two days. When washed and dried and combined with the last few day's pickings, it made for several nice bundles of asparagus. Since my wife has to go into work tomorrow, she's going to share the asparagus with her co-workers, mainly tellers, who have to go in every day.
Annie and I have taken several days off from having asparagus with our dinner each evening. With a good picking tomorrow, we'll once again be ready for an asparagus feast.
I've often advised new gardeners to start an asparagus patch first. It's a multi-year task before the first harvest, but one that is well worth the effort. Our how-to feature, Growing Asparagus, tells how to get started.
Another small task today was rinsing plant labels that had been soaking in a bleach solution. The bleach removes most of the permanent marker from the labels, allowing their reuse. Eventually, the labels get brittle and break after years of use, but I think cleaning them is cheaper than buying lots of new labels each year or so.
Melons Germinating
It's only been three days since I seeded our melons, but over half of the twenty-three pots seeded have plants emerging. I suspect a lot of the quickness of germination is due to having soil heating mats set to 80° F under the trays of melons. That temperature was actually a compromise, as our seedless varieties haven't shown any signs of germination as yet. I may bump the thermostat up to 85 degrees to get them going.

It's been a long time since we had a really good crop of melons. I'm hoping we get lots this year to drop off at our local food bank.
Apple Blossoms
I love seeing apple blossoms each spring. Whether or not we get a good crop of apples, the blossoms are still gorgeous.
We currently have just three apple trees: an immature dwarf Stayman Winesap; a tree that produces yellow apples that was supposed to be a Stayman Winesap; and a volunteer tree that resulted from our dumping cull apples along a treeline just off our property (but an area we care for). Over the last few years, we've lost a wonderful Stayman Winesap to fire blight and a Granny Smith to root rot.
Note that the tree producing yellow apples came from the Audibon Society along with what was supposed to be a red maple that wasn't. Audibon never responded to my emails of protest. I'll never contribute to or buy again from them. But I will continue to burn them each year here for their greed, sloppiness, and failure to make good on their products.
Getting back on a more positive note, I'd written a reminder to myself yesterday to get some shots of our apple blossoms before the blooms had dropped.
So here, for your enjoyment, are a few shots I took of our apple blossoms today.
While we're all locked down due to the caronavirus, it's still nice to enjoy the beauty of spring around us.
Monday, April 27, 2020 - Lettuce
We had a a lovely, warm, sunny day today with just moderate winds (10-20 mph). I took advantage of the great weather to finally get our lettuce transplanted into our main raised garden bed. I'd held off transplanting it, as we had repeated cold and sometimes frosty mornings. Fortunately, our lettuce transplants held up well in their tray under our cold frame.
Putting all of the lettuce in at one time means we'll have way more lettuce than we can use for a short period of time. When things get hot, our lettuce bolts, and that's that until it's time for fall lettuce. But we'll enjoy the lettuce and possibly be able to share the excess with our local food bank.
I put in nineteen lettuce plants today. There were four each of Jericho and Coastal Star, our favorite romaines, and two Better Devils, a red romaine. For iceberg head lettuce, I planted two each of Crispino and Sun Devil. Their transplants were grown from saved seed. Two Skyphos and one each of Barbados, Nancy, and Nevada completed the planting.
I'm able to plant numerous lettuce varieties as I save unused seed year-to-year in frozen storage. I also buy loose lettuce seed rather than pelletized, as it stores better. Most of our lettuce seed comes from Johnny's Selected Seeds. Their prices can run a bit to the higher end, but their seed quality is excellent.
Tuesday, April 28, 2020 - Onions
We had another sunny day today, although the wind was a bit strong. I spent about three hours on my hands and knees transplanting onions into our main raised garden bed. I had the time to go ahead and direct seed our green beans, but my shoulders and knees were too sore by that point, so I called it a day for hands and knees work.
We grow our onions in intensive plantings side-by-side with our spring carrots which I describe in How We Grow Our Onions. Briefly, I transplant the onions into two rows spaced just four or five inches apart. I leave a foot of space between the onions and a similarly spaced double row of carrots. The onions go in the row about four to five inches apart. That requires a lot of onion plants, but fortunately, the onion transplants we started in January are much stronger than what we grew last year.
Done right, and with a little luck, you get something like the 2014 photo at right shows.
One double row of onions included Yellow of Parma, Red Sunset, Clear Dawn, and Red Creole. Yellow of Parmas are an excellent open pollinated yellow storage onion we discovered when we did onion trials in 2014, searching for open pollinated replacements for discontinued hybrid onion varieties. Red Sunset is a rather new open pollinated red that grew and stored well for us last year. Clear Dawn is an open pollinated yellow storage onion bred from the now discontinued Copra hybrid. And even though they are a short day variety better suited for southern gardens, we grow of few Red Creoles each year. They produce very small red onions for us here, but mature a full month ahead of any of our other onion varieties.
Our other row of onions included a few Walla Wallas, a venerable sweet onion, Rossa di Milano reds, yellow storage Milestone hybrids, Southport White Globes, and a new red, Red Bull.
Once the onions were in the ground, I watered them with a our normal transplant solution at a slightly higher concentration of fertilizer than usual. An inch of rain is predicted over the next twenty-four hours here, so that should thin out and wash in the strong fertilizer.
This intensive planting isn't quite done yet. The walking board covering our direct seeded carrots is a bit longer than the planting. Once the carrots emerge, I'll transplant a few celery seedlings into the open area between the carrots and lettuce. And of course, the entire bed will need to be mulched with grass clippings for weed control and soil moisture retention.
Even with a simplified garden plan this year, I'm still not going to make my annual goal of getting our raised beds planted and mulched in April. Our green beans didn't get seeded today due solely to my advancing years. With a couple of days of rain predicted and our walking tiller still down (from me ordering the wrong repair part), it will be a week or so before they get planted. And I have some wonderful tomato and pepper transplants that won't be done hardening off until at least the first of May.
Thursday, April 30, 2020 - April Wrap-up
April turned out to be a month of late frosts and freezes and high winds. Our last frost came on Monday, April 27! Those aren't conditions favorable for getting a garden planted, but I actually made fairly good progress.
Our garlic planted last fall did well through the month, especially after I fed it some fertilizer when cultivating around the plants. Our spinach and tall early peas came through okay as well. I had to replant half of the spinach row, though, due to our Abundant Bloomsdale seed produced last year turning out to be hard seed. The pea plants got set back a bit by a freeze, but survived. Six geraniums I set out early all died.
I got our brassicas transplanted in a timely fashion, only to have to protect them for a week with a floating row cover. We lost one plant out of twenty-seven.
I was able to rototill the unplanted portions of our main raised bed and one narrow bed. That facilitated getting our carrots direct seeded and lettuce and onions transplanted just this week.
What didn't get done was direct seeding a couple of rows of green beans and transplanting tomatoes and peppers into our raised beds. It was just too cold for the tomatoes and peppers to go into the ground. I'll get the green beans planted as soon as possible. Years like this one when the field next to our raised beds is planted to soybeans invites and invasion of Japanese beetles from the bean crop. Early planting is about the only way to grow green beans in those years without using a lot of pesticides.
Contact Steve Wood, the at Senior Gardening